Marlon Simon & The Nagual Spirits Awarded CMA Grant
Source: All About Jazz Publicity – July 14, 2006
Chamber Music America has selected Marlon Simon and his ensemble, The Nagual Spirits, as recipients of the "New Works: Creation and Presentation" grant–a competitive program in which the CMA commissions and presents new works in the jazz idiom, recognizing both established and emerging artists. Marlon Simon and The Nagual Spirits will present "The Nagual Suite," with the support from Chamber Music America's New Work: Creation and Presentation program, funded though the generosity of the Doris Duke Charitable Foundation. Read full press release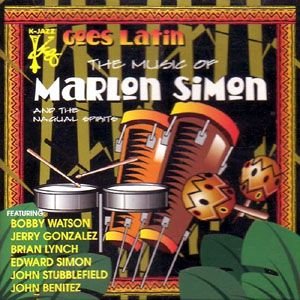 Marlon Simon and The Nagual Spirits: The Music of Marlon Simon
Review by Evan C. Gutierrez for allmusic.com
After a number of years on New York's short list of Latin jazz sidemen, Venezuelan drummer/percussionist Marlon Simon was long overdue for a solo project. His debut as a leader, with the Nagual Spirits, The Music of Marlon Simon features not only the innovative, creative musicianship of Marlon Simon, but that of his fellow "first call" Latin jazzers. The credits include renowned bandleader of the Fort Apache Band Jerry González on congas, tenor saxophonist John Stubblefield, trumpeter Brian Lynch, bass player John Benítez, and Simon's brother Edward on piano. The majority of the players contributing their considerable talents are distinguished bandleaders in their own rights, and their pedigrees shine through. Simon does a fantastic job of presenting rhythms and ideas from every nook and cranny of the Afro-Latin tradition. Around every corner, there is a new style, and a new idiom, both rare and beautiful. The production is as uncommonly good as the performances. Marlon Simon and the Nagual Spirits display exquisite taste and maturity. While Music of Marlon Simon may be one of the most underrated releases of the decade, it could not come highly recommended enough.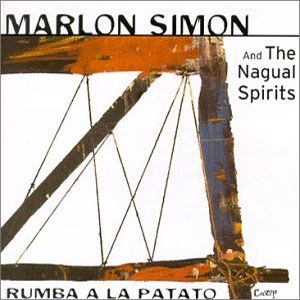 Marlon Simon and The Nagual Spirits: Rumba a la Patato
Review by Scott Yanow for allmusic.com
For his second CD as a leader, Marlon Simon (who plays drums, percussion, and bata) has such fine sidemen as trumpeter Brian Lynch, Peter Brainin (on tenor), altoist Bobby Watson, Luis Perdomo or Edward Simon on piano, John Benítez or Andy González on bass, and Roberto Quintero on congas. Simon's eight originals include tributes to Patato Valdés and Thelonious Monk. His younger brother Michael Simon (who plays trumpet on two songs) contributed one tune. Lynch and Watson sound quite comfortable with the Latin grooves, and the end results are very satisfying.